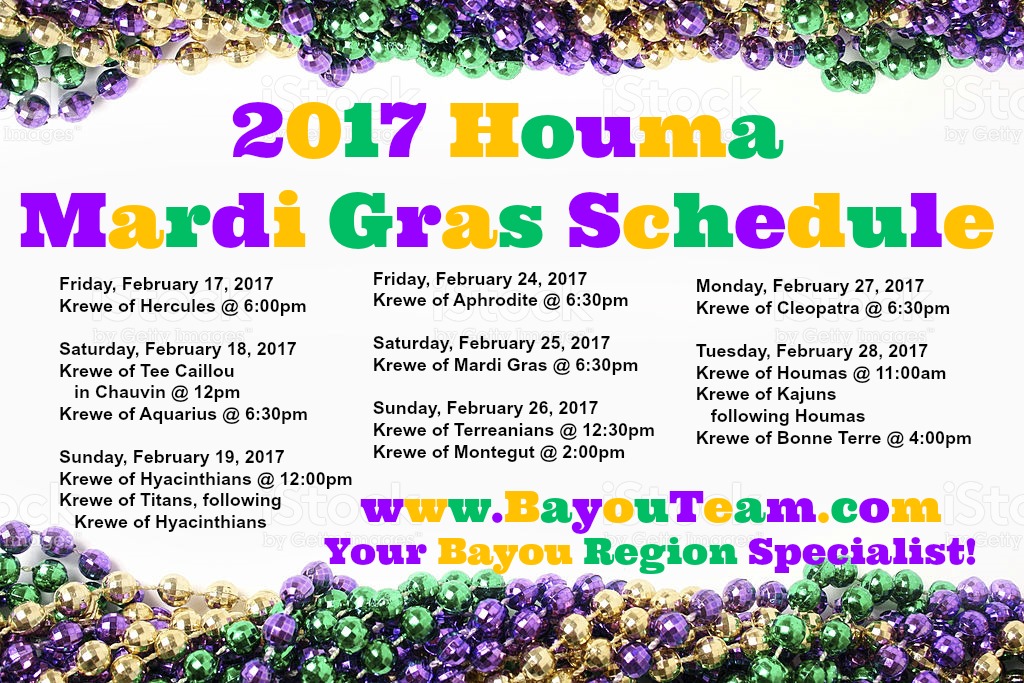 2017 Houma Mardi Gras Parade Schedule:
Friday, February 17, 2017
Krewe of Hercules @ 6:00pm

Saturday, February 18, 2017
Krewe of Tee Caillou in Chauvin @ 12pm
Krewe of Aquarius @ 6:30pm

Sunday, February 19, 2017
Krewe of Hyacinthians @ 12:00pm
Krewe of Titans, following Krewe of Hyacinthians

Friday, February 24, 2017
Krewe of Aphrodite @ 6:30pm

Saturday, February 25, 2017
Krewe of Mardi Gras @ 6:30pm

Sunday, February 26, 2017
Krewe of Terreanians @ 12:30pm
Krewe of Montegut @ 2:00pm

Monday, February 27, 2017
Krewe of Cleopatra @ 6:30pm

Tuesday, February 28, 2017
Krewe of Houmas @ 11:00am
Krewe of Kajuns following Houmas
Krewe of Bonne Terre @ 4:00pm
---
Parade Tips!
Don't reach down to pick up beads, doubloons, etc. unless you're feeling certain of your surroundings - Picking up beads, doubloons, etc. are a natural part of Mardi Gras fun, but be certain of your surroundings before doing so. If you can't pick it up at the moment simply place your foot over it until it's safe, such as in between floats.
Do NOT Run Into the Street - Floats can't stop on a dime, and accidents can occur. Please be careful when running after trinkets, and remember to never run into the street!
Be Careful Near the Floats - Anyone within any age group should take extra caution when approaching a float. Be careful and aware as you approach especially if you decide to put your child on your shoulders. With such a heavy crowd you could be bumped at any moment and loose your footing.
Be Respectful - Mardi Gras is known for the time to let loose, drink and party. Please remember to be respectful of those around you such as, to get overly drunk, obnoxious, or behave erratically.
---